va-Q-tec is used in facade insulation of the Grand Tower Frankfurt
Living in the city, working just around the corner, insulatingLiving in the city, working just around the corner, insulatingwith vacuum panels: this is the triad of the future.After all, the population in many large cities has been explodingfor years. At the same time, space there is verylimited, so that every square meter of residential andcommercial area counts – for every individual, as well asfor society as a whole.
The Grand Tower Frankfurt is a prestigious object that impressivelyThe Grand Tower Frankfurt is a prestigious object that impressivelyreflects this fact – it is to be the highest residential buildingin Germany once finished. The skyscraper will soon towerover the heart of the banking metropolis at the edge of theEuropean quarter with its 172 meters and 401 apartments. It isinsulated with vacuum insulation panels (VIPs) by va Q tec – inthe sections of the façade where supply shafts narrow downthe available space considerably. "It's only a wall strip of 1.25meters width per apartment that holds, among others, thebuilding technology," says Ronald Ellebrecht, who supportsthe projects as a Key Account Manager for va-Q-tec. Extrapolatedto the 47 floors with an average of nine apartments perlevel, however, the area is quite large.

Large space savings due to thin insulation panels
The best thing about it is that the VIPs by va-Q-tec are only 50 mm thick; common insulation panels would have been 250 mm thick in order to achieve identical low-energy values."This difference makes up a little less than three square meters of living space per floor in the Grand Tower," Ellebrecht explains. "At 47 floors, the space saved totals up to about 123 m²." This corresponds to one spacious apartment, which is valuable in a booming inner city like that of Frankfurt. "The purchasing price per square meter in the Grand Tower is between EUR 5,000 and EUR 15,000," Ellebrecht reports. This is not the least reason why insulation with VIPs was economically highly interesting for the builder, says the expert, along with other arguments that support this innovative insulation technique: "You can achieve the best passive building values with it, meeting the highest ecological demands – and it is also a purely visual benefit if you on't have any corners protruding into your living room."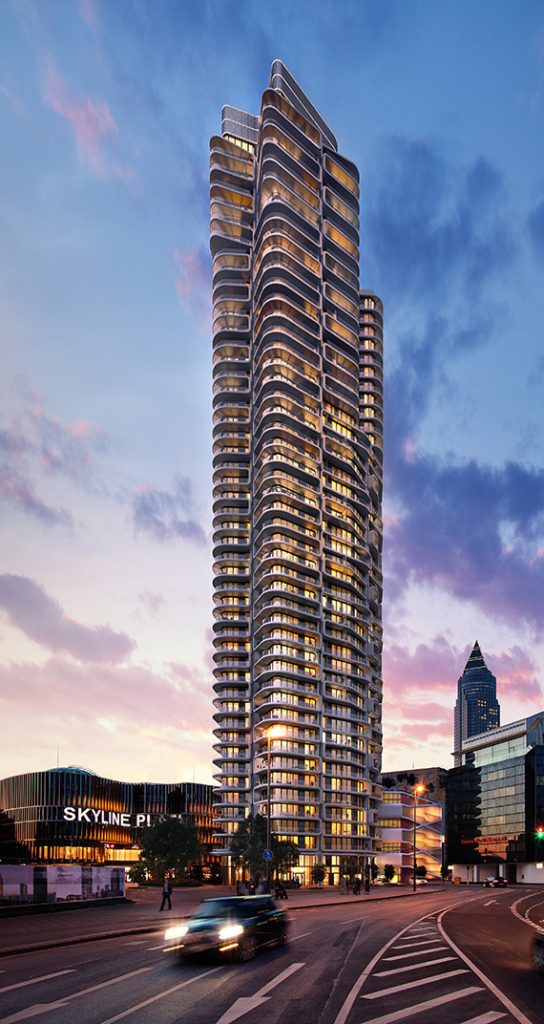 Speaking of visual benefits: the award-winning Grand Tower implemented under the management of Berliner gsp Städtebau also is a perfect eye-catcher with its many organically shaped units called "tubes". This façade shape brings many other benefits with it – among others, they improve the skyscraper's protection against wind and direct sunlight, while catching a particularly large amount of daylight. "This requirement posed a greater challenge to us at first, since we had only used panel-shaped construction VIPs before," Ronald Ellebrecht explains. va-Q-tec and its engineers started the successful independent development of curved VIPs that were produced at the company's main site in Würzburg. "We have achieved one more technology advance this way." The VIPs are integrated into glass façade systems right at the workshop of façade constructor RIVA GmbH Engineering in Swabian Backnang. "They are great for installation in the Grand Tower on site," Ellebrecht emphasizes. The pressure-resistant core material is made of a pressed, micro-porous powder. Its inside has been gas-tightly packed in a high-barrier film with a special procedure and evacuated, i.e. emptied of air.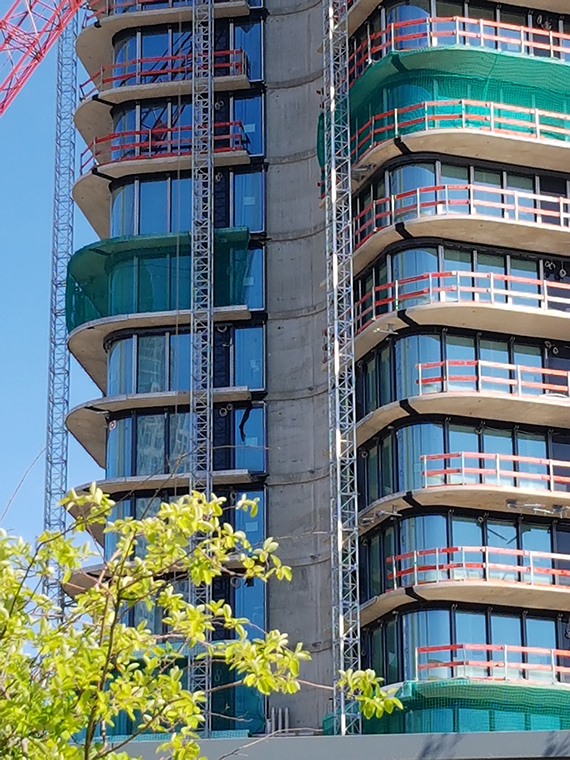 Other Reference Objects in Addition to the Grand Tower
The Grand Tower is only one reference object of va-Q-tec in the building area; others include the futuristically seeming expansion of the Fraunhofer Institute for silicate research in Würzburg – designed by the late architect Zaha Hadid – and Rosslyn Chapel in Scottish Edinburgh. Its medieval roof sealing had turned ramshackle above the church's nave. A conventional insulation material could not be used due to the building's monument status. Vacuum insulation panels of type va-Q-vip B were able to fix the issue. 
Of course, all VIPs from va-Q-tec have received general building supervisory approval from the Deutsches Institut für Bautechnik and meet the required Euro standards. They have diverse uses in new buildings as well as for restoration, e.g. when insulating floors, roofs, balconies, ceilings and, of course, outer façades. According to the approval values (calculated values) in the building area, VIPs insulate about five times better than conventional insulation materials of the same thickness can. Based on the measured values, the panels are even ten times better. Architects and planners can save about 80% space. The lower heating demand also improves the carbon footprint.

An additional added value of the vaQ-tec insulation panels is that they are modular: different sizes, shapes and surface laminations ensure individual solutions for any building projects. The check technique patented world-wide by va-Q-tec also permits full control and makes vacuum panels safe, reliable and "respectable" for construction.
Many Years of va-Q-tec Experience in the Construction Area
Moritz von Wysiecki, the company's Head of Marketing, points out that va-Q-tec already has many years of experience in building insulation: "The building industry was one of our first business units, even though it was pushed a bit into the background temporarily by our success in other areas." This changed, not least due to the suction effect of metropolises. "The increasing condensation of inner cities has led to a rising demand for innovative insulation materials that don't get too thick," von Wysiecki explains. According to him, every square meter of additional living or commercial space counts in this area. The VIPs by va-Q-tec pay off specifically in larger building projects that are in increasingly high demand in the core areas of cities. The demand for state-of-the-art skyscrapers is expected to increase rapidly in future according to experts – in metropolises just as in the so-called B-cities. The metropolitan area of London alone is expecting more than 500 new high-rise buildings in the next decade.1 Germany also sees a trend of reducing the footprint of new buildings and building upwards instead. 97 skyscrapers with a total of 18,400 apartments are planned in this country over the next five years. The first among all locations is Berlin with 27 high-rise residential buildings, followed by Frankfurt (23). Erfurt, Hanover and Karlsruhe all have such building projects right now as well.